Do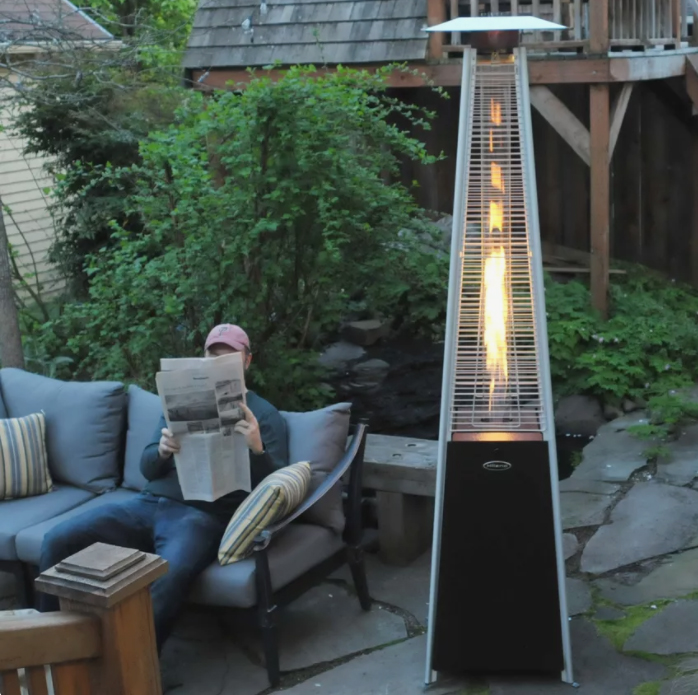 n't you love your Backyard Bay?  We're spending more time at home and the backyard is one of the safest places to cook, eat, relax, exercise and gather with family and friends.  You make the rules and the mask is optional.
Hey, Michael!  What is the best way to heat my patio so I can spend more time out there?
Great question!  And, Backyard Bay listeners have some great options depending on how much area you want to cover and the power source you prefer.  Here are a few of my favorites.
Patio Heaters
Patio heaters are more popular than ever.  Every restaurant patio has several heating their outdoor dining areas all season and now consumer models make them affordable for everyone.  My favorite is the good old stand up heater with the element at the top dispersing the heat from shoulder height.  Plan to spend about $200.00 for a no-frills heater.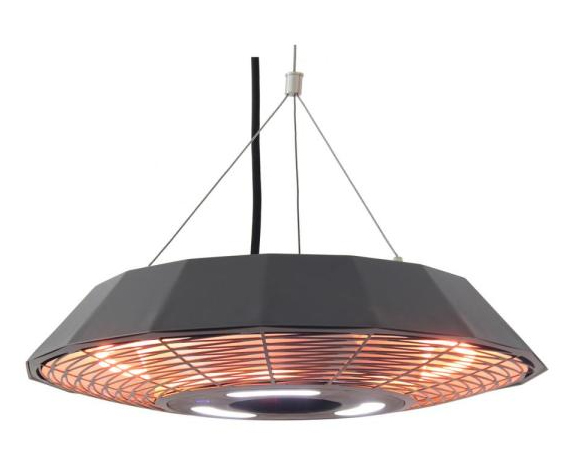 The tower style patio heater adds a designer touch and the warmth of a flickering flame to the heating function.  The tower is fueled by liquid propane and typically covers about 10 square feet.  Plan to spend about $500.00 for a good one and a few trips to refill the 20 lb. propane tank each season.  The tower spreads heat at the seat level.
The wall mounted heating strip you see at popular restaurants is gaining in popularity.  It takes up no patio space and can be fueled by either gas or electricity.  Some even come with misters to cool the patio during the summer.  The heating range is about seven feet per unit.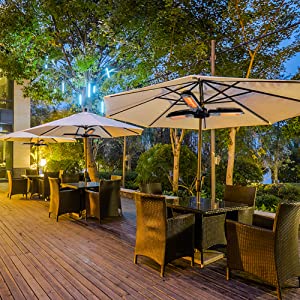 Don't overlook some new styles like the umbrella heater or infrared heaters hanging from the ceiling.
Sources:
patio heater – Text Search – Patio Heaters – Outdoor Heating – The Home Depot
Outdoor Heaters – Patio Heaters | Frontgate
Commercial Patio Heaters: Gas, Propane, & Electric Heaters (webstaurantstore.com)
Fire Pits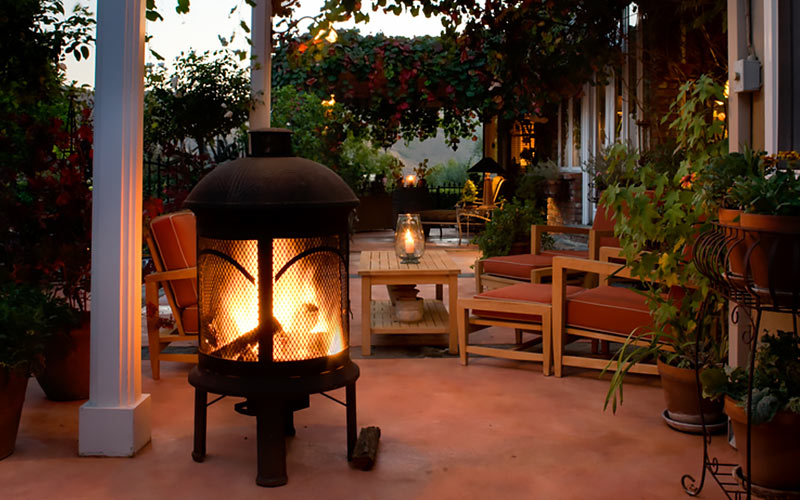 Fire pits burn either wood or gas and are an easy way to turn up the heat and cook up those Smores.  They come in all sizes and styles and provide the least expensive way to dress up the patio and provide some additional warmth.  Shovel some logs in the middle or connect the fire pit to your natural gas line.
Sources:
Fire Pits – Outdoor Heating – The Home Depot
Fire Pits and Tables | Frontgate
Fireplace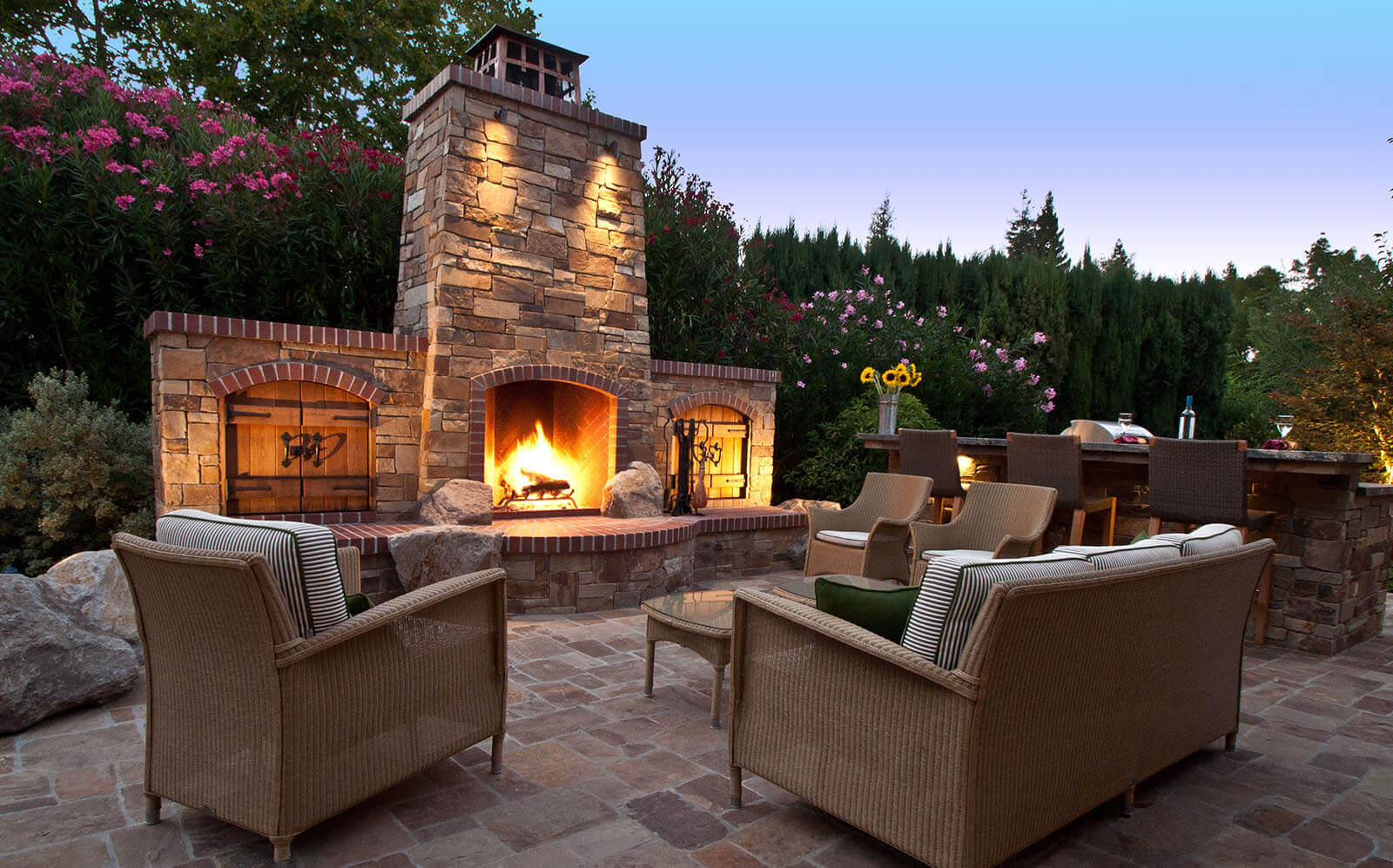 Homeowners who love their indoor fireplaces rave about their outdoor fireplace.  More and more of my clients ask about fireplaces when they remodel their backyard space.  They can be pricey but many say it's well worth the investment.
Sources
Remodeling & Renovations – Miller Pools
Cypress Custom Pools
Cypress Outdoor Kitchen | Outdoor Living | Fire pits | Fireplaces (cypresscustompools.com)
Radiant heat in the floor or deck.
If you grew up in colder climates you may have had radiant heat in your bathroom floor.  Imagine taking that concept outside.  Many higher end patio updates include this type of radiant heat applied to the floor.
Expert Advice
Compare patio heating options by coverage area, heating output and the power source.  If you have access to natural gas, consider a fire pit or wall mounted heating strip.  Heat intensity is measured in BTU's.  Electric heating options include patio heaters and radiant heat.  Measure heat intensity and energy usage in watts.
Don't discount the restaurant supply stores.  HGTV's Home Town host Erin Napier shops at restaurant supply stores for commercial grade gas stoves at a lower cost.
How Do You Heat Your Patio?
Please let us know by leaving a reply in the box below.