"You won't catch me dead living in the northeast again."
Do you blame him?  Retiring NFL quarterback Tom Brady made that statement to a reporter recently.  He sold his home in New York and another in California.  In fact, Brady and wife Gisele Bundchen sold several of their properties for about $140 million and a profit of about $30 million.  They are putting those profits into a stunning 2 acre property on Indian Creek Island about 20 minutes from Miami Beach.
$8.5 Million Per Acre
Since they razed the 5,700 square foot home on the property, that puts the price of the land at about $8.5 million per acre.  But, who's counting.  An Indian Creek Island property comes with it's own golf course, country club and police force for the 34 homes built on the island.
Great Taste In Pools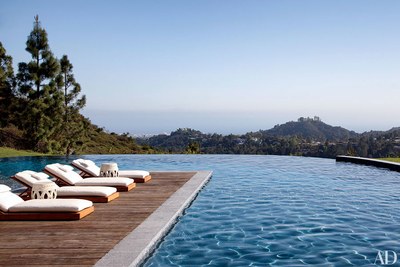 If there was a Backyard Bay Hall of Fame, Tom Brady's homes would be in it.  This is one of our favorite views from the side of the pool.  This was part of his Los Angeles home.  No walls or doors block the view but he can watch the game on a huge flat screen TV that sits above the outdoor fireplace.
Three MVP's
Tom Brady played 22 years in the NFL for the New England Patriots and the Tampa Bay Buccaneers.  He won 7 Superbowls and was voted Most Valuable Player 3 times.  Happy retirement, superstar!